DWF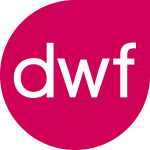 Description
DWF is a global legal business.
LBBC contact: Andrew Carpenter, Partner, M +44 7815 786165
Profile
We are a global legal business with over 27 key locations and 3,000 people delivering transformational solutions that go beyond expectations.
By questioning traditional thinking and conventions, we achieve outstanding levels of innovation and being named as one of Europe's most innovative legal advisers by the Financial Times. We have a range of stand-alone consultative services, technology and products to complement a traditional legal offering.
We are finding new solutions across the globe for clients within eight core sectors including Energy and Industrials, Financial Services, Insurance, Public Sector, Real Estate, Retail, Food & Hospitality, Technology and Transport.
We build business relationships that inspire trust and confidence across all levels of our business from multinational household names to private individuals and from both the public and private sectors.
Join us on our shared journey to redefine legal services and you'll benefit from the most innovative thinkers, technical experts and sector specialists.