Hill International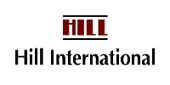 Description
Hill International is a global provider of project management and construction consultancy services with a track record which includes some of the largest projects in the world.
Profile
Hill International (NYSE:HILL) was established in New Jersey in 1975 and has become one of the leading project and construction management service companies and a global leader in managing construction risks. Hill has managed more than 5,000 projects valued in excess of $250 billion. Hill's selected project portfolio includes Palm Jumeirah, Palm Jebel Ali, The World, City of Arabia, Bawadi, Comcast Centre and Bahrain Airport. Hill's client base extends all over the world with coverage across North Africa. It ranges from governments to individuals and small companies to international corporate giants.
In Libya Hill is currently managing the major works at Al Fateh University ($4bn), 25 new university campuses ($8bn), Al Waha Development mixed use development and Al Birdi leisure development. With over 250 staff in the London office and in Libya Hill has the experience and expertise to help our clients deliver their projects on time, within budget to the required level of quality in a highly challenging environment. Hill is currently in the process of discussing several other major developments with both government and the private sector which will include healthcare, residential and industrial projects. Hill is committed to working long term in Libya as a key consultant in construction and property development.
Address:
City Stars, Star Capital 8, 2nd Floor, Office No. 23
24, El Forsan St. Nasr City, Cairo, Egypt
Phone: + 20 2 2 480 1900