The Libyan high national elections commission will keep its headquarters in the capital Tripoli, in defiance of terrorism after it was attacked by an ISIS bombing on Wednesday.
Wednesday's terrorist attack left at least 14 people dead at a time when Libya is seeking to hold presidential and parliamentary elections before the end of the year.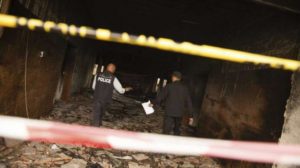 Commission head Imad al-Sayeh confirmed that the authority will remain in Tripoli.
"When we held parliamentary elections on June 25 four years ago, the security situation was worse than it is today," he stated.
"Those demanding the relocation of the commission must present an official justification," he continued.
"If we relocate it to another city, then how will that affect the electoral process?" he asked.
Sayeh explained that the relocation demands legal amendments and procedures.
Moreover, he remarked: "The elections are not a solution, but they offer the basis for launching solutions. They are the foundation for the official peaceful transition of power and democratic practice."
Spokesman for the temporary government headed by Abdullah al-Thani in eastern Libya, Hatem al-Oraiby had announced that his government was prepared to host the election commission in Benghazi city.
The government was prepared to eliminate all obstacles hindering this relocation, he added.
Meanwhile, the Russian Defense Ministry announced that Minister Sergei Shoigu had held talks with Libyan National Army Commander Field Marshal Khalifa Haftar on the latest Libyan developments.
They also discussed Middle Eastern, North African and counter-terrorism affairs.
Source: Asharq Al-Awsat