Map Unavailable

Date/Time
18/11/2019 - 21/11/2019
7:30 pm - 12:30 pm
Event Type: Offline Event
Categories No Categories
The LBBC would like to thank all of the speakers, sponsors and delegates for their support in making the November 2019 LBBC Trade and Investment Mission to Tunis such a great success.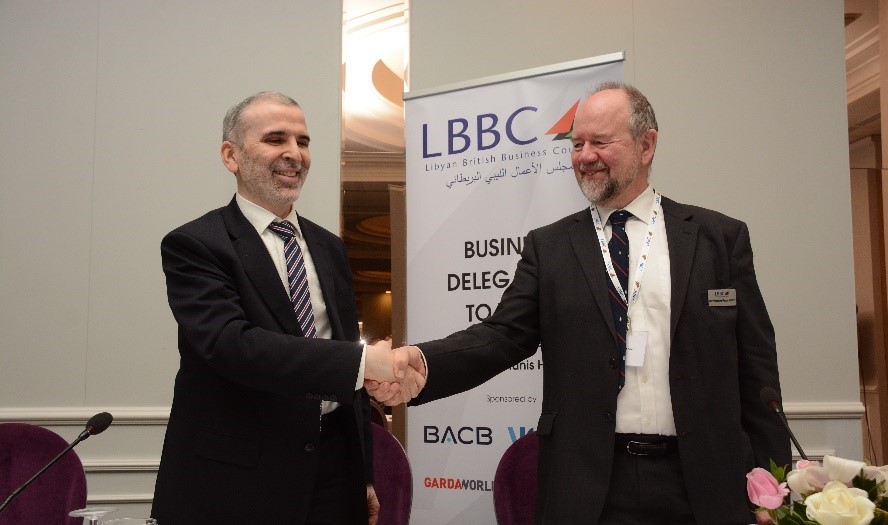 Expert presentations, productive panel discussions and the fruitful exchange of information took place over three days in Tunis, covering sectors including Oil & Gas, Finance & Legal, and Construction & Infrastructure.
Over 150 Libyan state-owned and private businesses met 41 member companies of the LBBC on 19-20 November in Tunis. Business meetings and a 1-day conference were organised by the LBBC, strongly supported by its two member banks, BACB and Bank ABC.
Mustafa Sanalla, Chairman of the National Oil Corporation (NOC) was a keynote speaker at the LBBC conference, with Central Bank Governor Saddek Elkaber and Dr Faisel Gergab, Chairman of Libya's national telecoms company, LPTIC. The Libyan state Power Company GECOL, steel manufacturer LISCO, construction company ODAC and the President of the Libyan Airports Authority also spoke. Over 150 Libyan businesses attended, from all parts of Libya – East, West and South.
British Ambassador to Libya Nick Hopton addressed the LBBC delegates, offering them his strong personal support and that of his commercial team in Tunis and Tripoli.
UK Deputy Trade Commissioner for Africa Alastair Long confirmed the priority the British Government and its Department for International Trade attach to Libya across all sectors, including Energy, Education and Training, Financial and Legal Services and Healthcare.
Dan Barker explained the role of UK Visas and Immigration before initiating a promising dialogue with the NOC's General Manager (HR) and Directors of Training from NOC operating companies.
Libyan Health Ministry officials and Libyan private sector healthcare practitioners spoke at a productive workshop on hospital development, equipment and medicines supply in the margins of the conference, leading up to a wider bilateral healthcare gathering in London in the spring of 2020, organised by the LBBC
Special thanks are due to Bank ABC, BACB, GardaWorld and Whispering Bell for sponsoring this event.
To view the Final Mission programme, a Press Release outlining the main outtakes from the conference, and individual presentations delivered during the conference, please click on the relevant links below.
Mission Programme (Final): The LBBC Mission to Tunis, November 2019
LBBC Trade Mission – NOC and LBBC Statement of Intent
Press Release: The LBBC Mission to Tunis, November 2019
Presentations:
Usman Darr Vice President Engineering & Consultancy at Petrofac (Usman.Darr@Petrofac.Com)

Mohamed Abdulmalak Elfighi, Chairman, Libyan Iron & Steel Company [LISCO]- Part 1 and Part 2 (chairman@libyansteel.com)

Testimonials:
"Thank you for organising another successful conference in Tunis.  Speaking with other delegates we all agreed that it's a 'one of a kind' conference, where we would not normally meet and engage with such high profile people within the Oil/Banking sectors, as well as other areas in Construction/Power; and establishing friendships over the last three years of participating. Long May it continue". Paul Denny, Managing Director, SKS Group
"The conference was fabulous and the healthcare workshop very informative and useful." John Butterfield, Managing Director, Bab Libya
"It was a fantastic few days which were hugely beneficial." Usman Darr, Vice President Engineering & Consultancy Services, Petrofac Engineering & Production Services
"I would like to take this opportunity to thank you for the great event and high level meetings you help us to have with key decision makers in Libya. As Petrofac we look forward to support Libya in and out of country and to develop further business with our clients in Libya." Marco Peruzzi, Business Development Director, Petrofac
"Thank you for organising an excellent event in Tunis this week. I really enjoyed meeting friends and colleagues from across the region and to explore new opportunities for future collaboration." Professor Paul de Leeuw, Director | Energy Transition Institute, Robert Gordon University
"I would also like to commend you on the conference: I thought you and your team did a tremendous job with all the arrangements, and to get everyone from Libya across I can imagine was not an easy task." Shehzad Khan, Mediworld. 
"We congratulate and thank you for your Chairmanship of the LBBC event in Tunis.  Amazing amount of energy and great attendance.  The LBBC would not have the traction that it has today without your leadership." Peter Budd, CBE, Consultant, Arup.